Dear Reader,
I love having sappy Christmas movies when I am creating during the season. I often watch Hallmark Channel (my other favorites are Lifetime and ABC Family) all season as they play Christmas throughout the night which is wonderful for when you need to stay up baking, making cards, decorate, wrapping presents or just when sleep escapes you. Do you watch them too? Which are your favorites?
Now on to the good stuff:
Documenting December
Ashley Cannon Newell
Her December Mini Album is a great take on documenting your December in a do-able way and her work is always elegant.
Laura O'Donnell
I love this tag version of December Daily and I am always a sucker for seeing all the pretty supplies used in a basket or special container.
A very Crate Christmas (Crate Paper)
Peppermint Projects
Crate Paper is having a a very Crate Christmas this year including a way for readers' to submit their own projects using their Peppermint collection. For guidelines check out this post. Up for grabs are their brand new Paper Heart collection kits.
Merry Makings
Holly, jolly tutorials by the creative team of Crate Paper. Well worth checking out.
Party with Prizes

The Hero Arts 2012 Catalog Blog Hop
Tomorrow kicks off this big blog hop with prizes from Hero Arts' brand new catalog. Don't miss out on seeing all the samples from people like Tim Holtz, Ali Edwards, Basic Grey and so many more.
Wrap It!
7Gypsies
This post has some lovely inspiration for creative wrapping ideas. If you look at other enteries on 7Gypsies blog you will also find ways to store Christmas cards along with a giveaway
HERE
.
Enabler Alert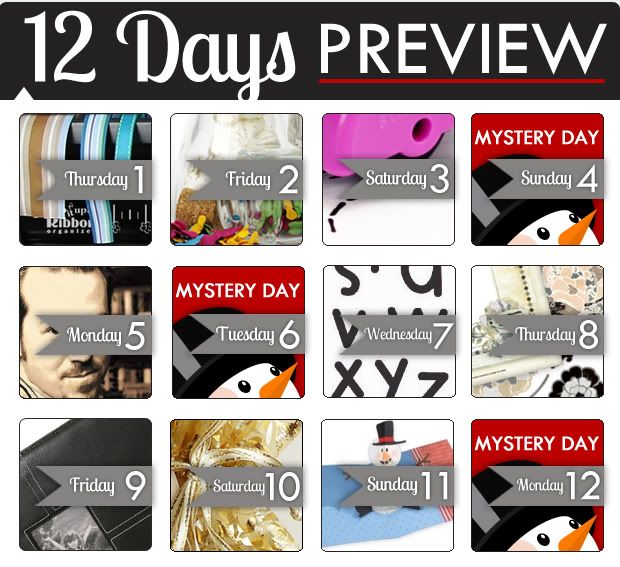 Sign up for scrapbook.com's newsletter and receive a new deal each day. There are only a few days left, but a deal is a deal.
Happy and merry creating,
Shay