Dear Reader,
I have been batting around ideas of how I want to celebrate this holiday season in a meaningful and personal way. Have you? One of my favorite activities is to see how the talented people out in the world celebrate. I love observing so much beauty and creativity!
I thought I would do something a little different to celebrate the holiday season and all of the crafting goodness awaiting us online. Why not list what is available right here? I hope I can add something every day to the list. Please comment with more suggestions! I love visiting new blogs and sites.
No admission fee: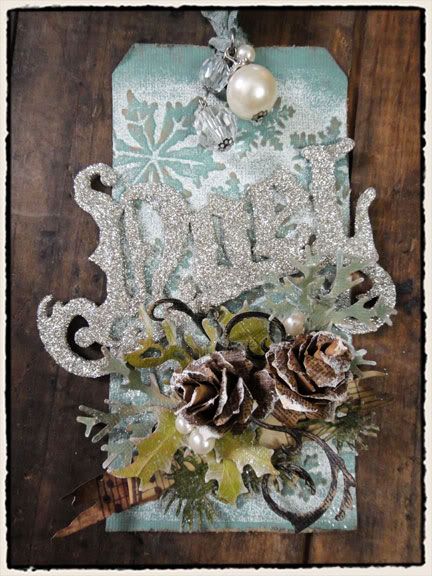 2011 First Tag by Tim Holtz
1.
The 5th year of Tim Holtz's 12 Days of Tags.
Chock full of inspiration, techniques and a daily giveaway. This is today's tag bu
http://www.timholtz.typepad.com/
2011 December Daily Album Cover By Ali Edwards
2.
Ali Edwards' December Daily.
Chronicle your December in anyway you want with ideas from Ali Edwards blog. A wonderful way to celebrate and savor the season.
http://aliedwards.com/
Basic Grey's 25 Days of Christmas Advent Calendar.
Each day another goodie. Today is a favorite recipe. Tomorrow?...a surprise!
http://www.basicgrey.com/pages/advent
Pink Paislee's Winter Wonderland Blog Event.
Giveaways, free printables, pretty projects...what is there not to like?
http://www.pinkpaislee.com/pink-paislee-blog/
Oscraps' 12 Days of O Christmas.
"Check daily for challenges, freebies, tutorials, some fun Christmas trivia and even a sale or two." What a treat!
http://ozone.oscraps.com/blog/
20 Days of Christmas Crafts on Design House Digital Blog
.
Tutorials of beautiful digital designs used to create lovely physical crafts. I am there.
http://www.designhousedigital.com/content/category/blog/
Small admission fee:
Designer Digitals' Days of Christmas
.
Each day a new $0.99 digital product and 285 items 30% off.
Online Classes:
Shimelle Laine's Journal Your Christmas
.
Awesome class with daily prompts for journaling and photography to capture the wonder of the season. This can be used in conjunction with December Daily.
http://www.shimelle.com/paper/1284/journal-your-christmas-2011-online-scrapbooking-class/
12 Artsy Ornaments of Christmas
.
Looks like a fun class with 12 different projects from 12 great teachers like Christy Tomlinson of Scarlet Lime, Donna Downey and Margie Romney-Aslett.
http://christytomlinson.typepad.com/christytomlinson/2011/11/sneak-peeks-holiday-cheer.html
Spark your Christmas garland by Margie Romney-Aslett
3.
Spark your Christmas with Margie Romney-Aslett
.
Looks like a class full of ways to add handmade holiday sparkle and decoration to your house.
http://margieromney-aslett.typepad.com/im_just_a_girl/2011/11/spark-your-christmas.html
Hope this either reminds you of something you had wanted to see today or introduces you to something new!
Happy and merry creating,
Shay.