February 3, 2011 note: I found this post sitting within my draft posts. It merely needed a picture added to be complete. So I am posting it now.
From summer 2010:
I have been sucked into some sort of strange time warp. Before I knew it several weeks had passed since I posted on this blog. Whilst away I did make a couple offerings for May's Hero Arts Club challenge. We were supposed to use the upper left hand image of this set to make something (one lady made wonderful labels using the frame for the delicious food she and her friend provided for the meeting..I wish I had thought to take a picture of it because the table was lovely!):
I decided to go with cards (huge surprise). I began with my
March 2009 Scarlet Lime kit
for color inspiration and the idea of using the shape of the frame as a mask much like I did with the Daisy from April's Hero Arts Club Challenge. This time I used some of my Glimmer Mist instead of ink to color the card base. I also wanted to use the Friends cling set to fit into those masked frames (and they fit nearly perfectly). At first I thought my colors would primarily be green and blue with a punch of orange and I colored in the frame with orange accordingly, but after my sister's rather unfavorable reaction to the colors I decided the orange frame must be the beginning of another card entirely. This often happens to me as if even my creativity gets distracted and must work on more than one thing. So I remained with green, blue and touches of a sandy grey (for the mask card and did another card with black and white and punches of orange and green that I decided would work for my aunt's graduation from medical school.
One last note, I realized I may be the world's worst bow maker (if possible it is worse than my photography). I think I spent almost the same amount of time tieing the bow on the card as all the rest of the card...may be the reason I don't use ribbon as much as many other people. This is probably explained by the fact that the only way I was able to learn to tie a bow when I was little was the the double loop system and it is only in the last couple of years that I have been able to tie a bow in the more common way. I also learned how to jump rope by flipping the rope behind me then jumping rather than in front of me as it was the only way that I could physically do it at the time. Go figure.
Here are the results: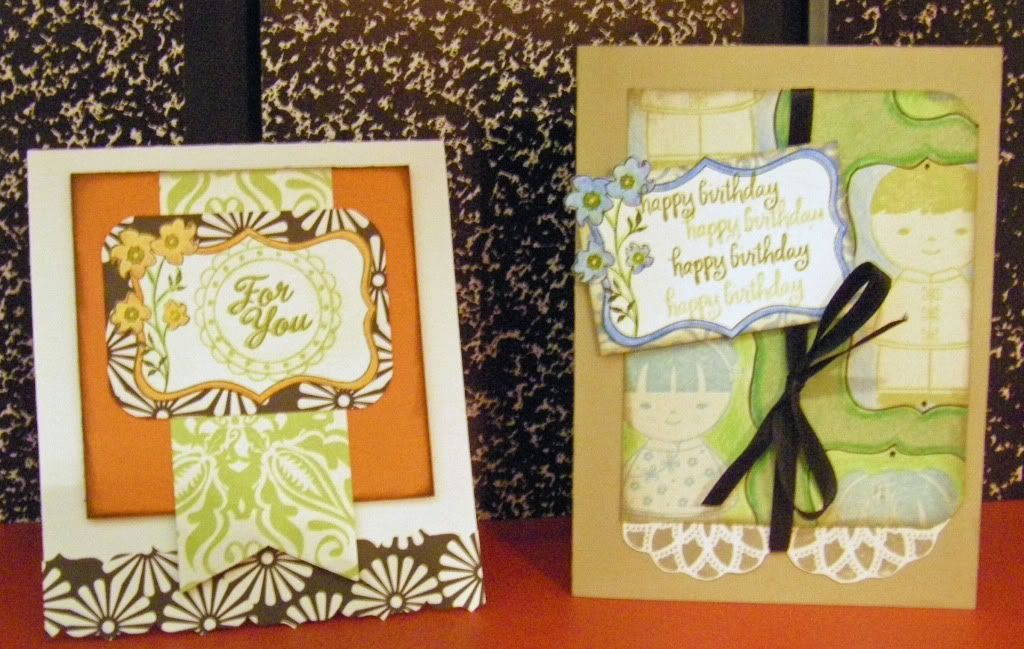 Thanks for calling at the Hall!
Happy Birthday Card
Supplies:
Stamps: Three Floral Frames (CL384), Friends (CG106), Starburst (F5318) and Happy Birthday, Hero Arts
Inks: Pumice Stone, Shabby Shutters and Tumbled Glass (I think, but it could be Broken China), Tim Holtz Distress Inks by Ranger Industries
Mist/Spray: Green Meadows, Tattered Angels Glimmer Mist
Cardstock: Sand, Neenah Papers
Patterned Paper: Beach Caribe and Cantando (from Canta Collection), GCD Studios
Other: Crop-A-Dile Corner Chomper, We R Memory Keepers; Ribbon, Offray; Colored Pencils
For You Card
Supplies:
Stamps: Three Floral Frames (CL384), For You from Dolls (CL289), Hero Arts
Inks: Shabby Shutters and Peeled Paint, Tim Holtz Distress Inks by Ranger Industries
Patterned Paper: Beach Caribe and Cantando (from Canta Collection), GCD Studios
Other: Colored Pencils