Dear Reader,
I hope this past Valentine's Day brought you a lot of time spent with your loved ones and perhaps some chocolate or other sweet goodies. I enjoyed dark chocolate covered strawberries...some with real gold dust. I really should have taken a picture of them because they were beauties...rather I relished the taste of them and forgot about all else.
Today we are going to do a little step back in time as this post is about the card I made my mom for Mother's Day last year. One thing I have realized is I need to get a stamp set which has sentiments regarding Mother's Day. Being someone who doesn't use sentiments as much as others I have a lot of voids in my stamp collection where sentiments should be (we all have to have priorities if we are ever to wade through all the products we want).
Back to the card...my mom loves blue. Anyone who knows her knows this or should because it is a very defining part of who she is. I can't describe the depth of her love for blue. I know there are green families out there in which everyone has a deep and abiding love for green, but most of my family are advocates of blue to the point that my dad is thrilled that the night lighting of the electronics in his new car is blue (and the car is blue to ease your mind). This feeling my dad has for blue (and neither really like green) helps cement my belief that my parents were destined to be together. After blue, pink is my mom's favorite color...in fact her sewing room is pink with accents in black and white. With this in mind I kept with a blue, pink and white color scheme. As I mentioned she has a sewing room and therefore whenever I see sewing related images I know they are going to be perfect for my mom. When I saw these Hero Arts stamps I knew they were just right for my mom.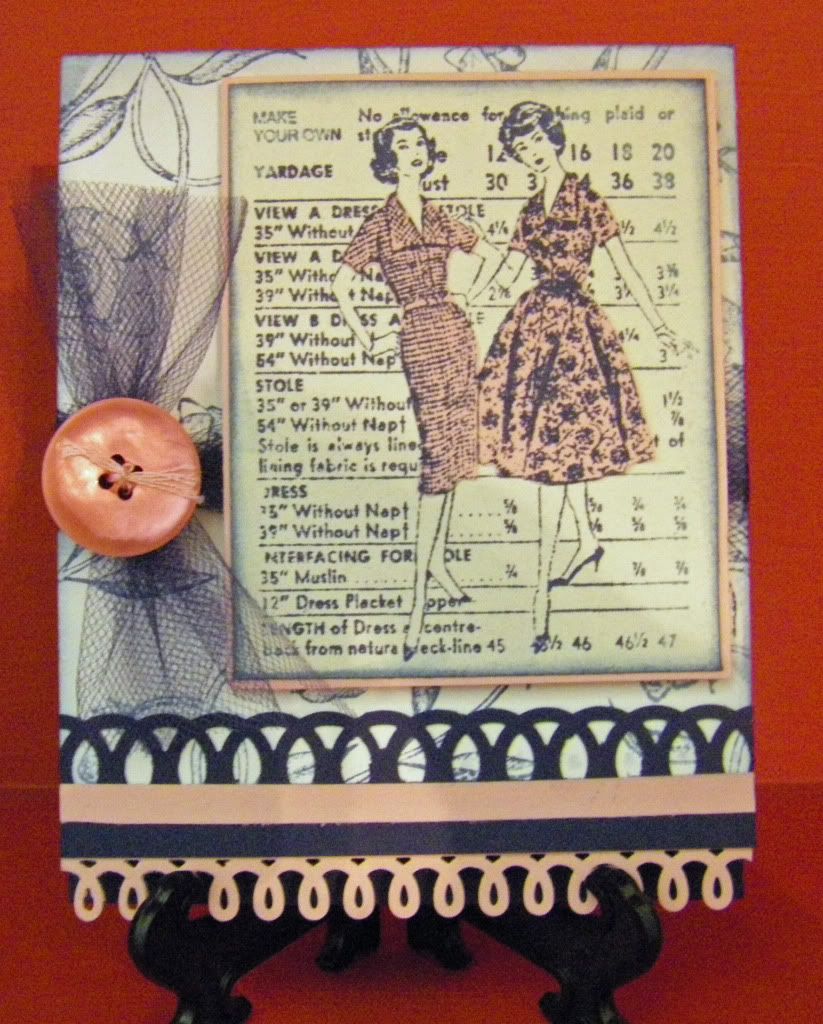 This is a fussy (busy) card, but my mom can be even more fussy than I am so it really suits her. I chose to highlight the dresses (and introduce the pink onto the main image) by stamping them onto pink cardstock and adding them to the neutral main image. Since I couldn't find a ribbon I wanted to use with the card I went with navy tulle that my friend very generously bought me a while back and I am happy with the result. I hope you enjoy looking at the card.
Card Pose No. 2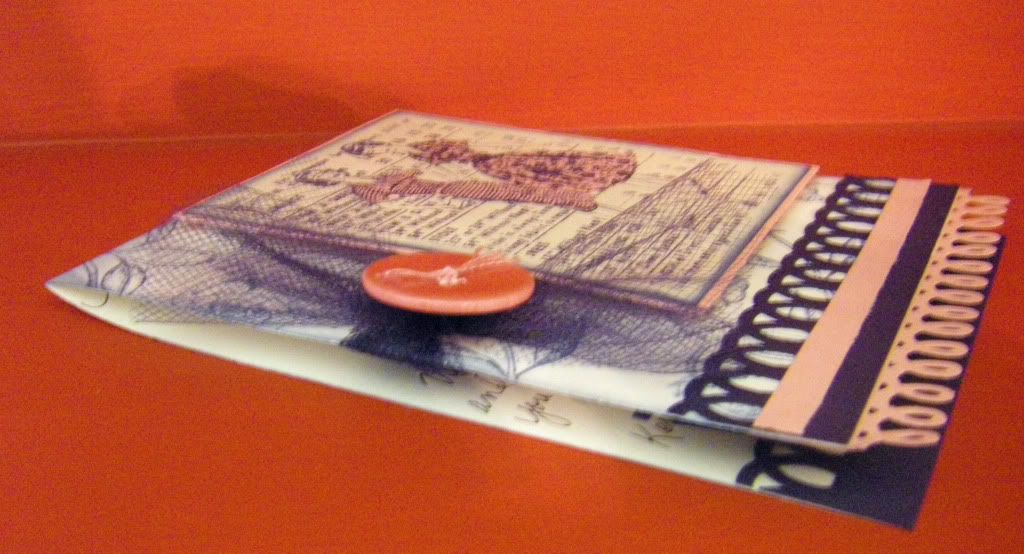 Thanks for calling at the Hall!
Mother's Day Card
Supplies:
Stamps: Make Your Own (CG175) and Roses from Two Birds (CG152), Hero Arts
Inks: Chipped Sapphire, Stormy Sky and Spun Sugar (inside), Tim Holtz Distress Inks by Ranger Industries
Cardstock: Night of Navy, Stampin' Up!, White, Georgia Pacific; Earthstone, Neenah Papers; Pink, scrap pile
Button: From Spring Mix, Paperrtrey Ink
Punches: Martha Stewart
Other: Navy Tulle; Pink Emboidery Floss, DMC