Hello there, dear reader. It is amazing how one little blog post about a simple card can take ages to complete. Am I especially slow or do others experience the black hole that is blogging? Hours pass in which I photograph, edit, wait for my camera battery to recharge, reshot, write, edit, add links, upload pictures, hunt for the names of this stamp set, that tool, etc. It is a production and I am not even a good blogger. I have *so* much respect and admiration for high class bloggers like
Ali Edwards
. How does she do it?
Okay, now that I have digressed let us get on to the main point of this post:
Papertrey Ink
. The 4th anniversary celebration continues and I am so happy that I can participate. Today marked the first Make It Monday. To learn all about it visit Nichole Heady's blog:
here
.
The card wasn't hard to make, but the photographing of it has been a real chore. The lighting is horrible and my studio is a complete mess so I can barely find anywhere to place the care without clutter or something else in the way. This studio really needs a complete overhaul, but that is another story or rather saga. Please don't laugh too hard at the photos.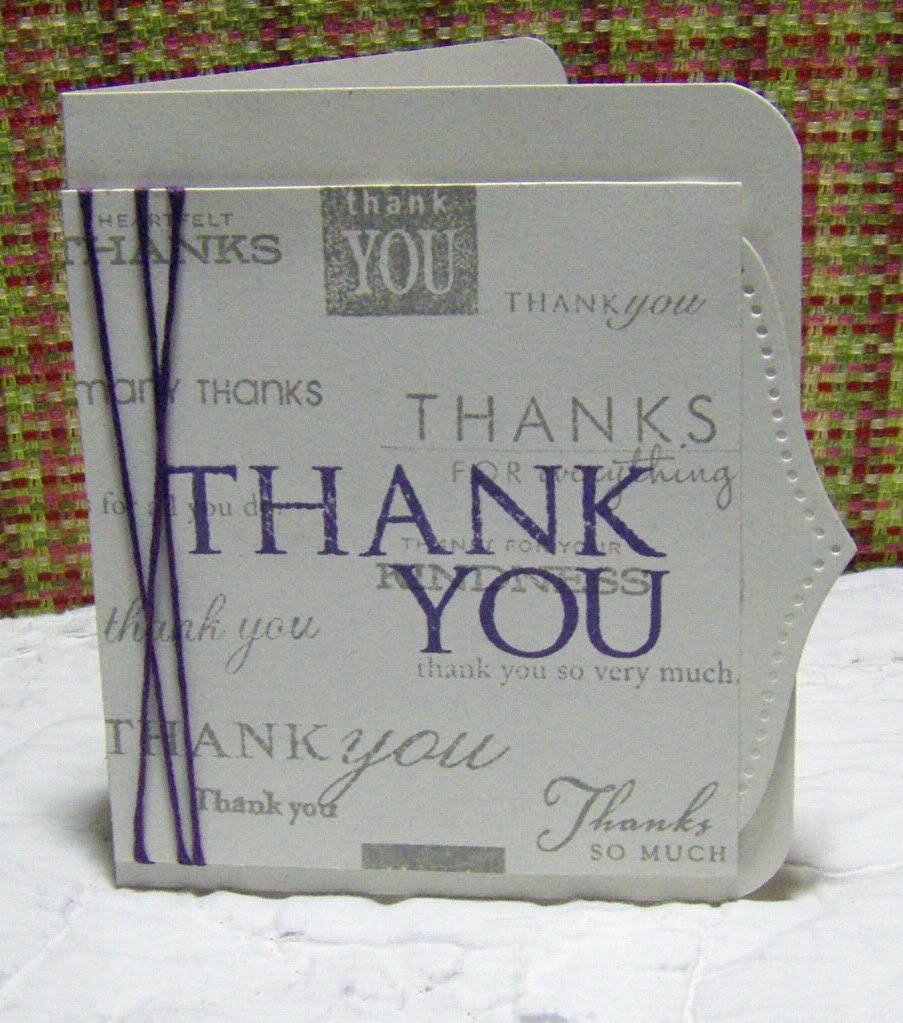 I really enjoyed the challenge of a Go-To Sentiment card (using the same sentiment from several stamp sets over and over) and challenged myself even further by making a clean, mostly monochromatic card. I was inspired by the very clever and talented
Maile Belles
, but in no way did I pull off what she can do with such grace and panache. I used a large amount of stamp sets (11 I think) for this and I really like how this challenge utilized so many stamp sets in a fun and unique way. I also decided I wanted the main "thank you" to be spelled out with my Trajan alphabet set. Luckily "thank you" has no repeat letters which makes it a breeze to spell out.
And more beautiful shots of the card. Every model needs to be seen in different poses.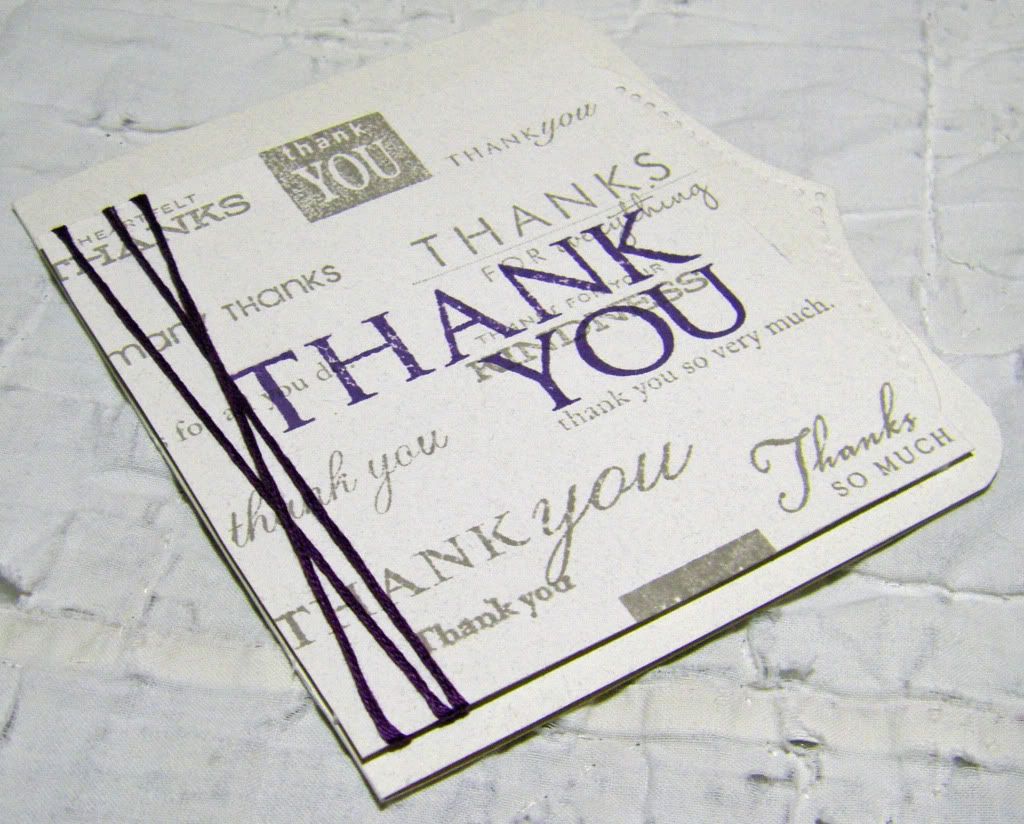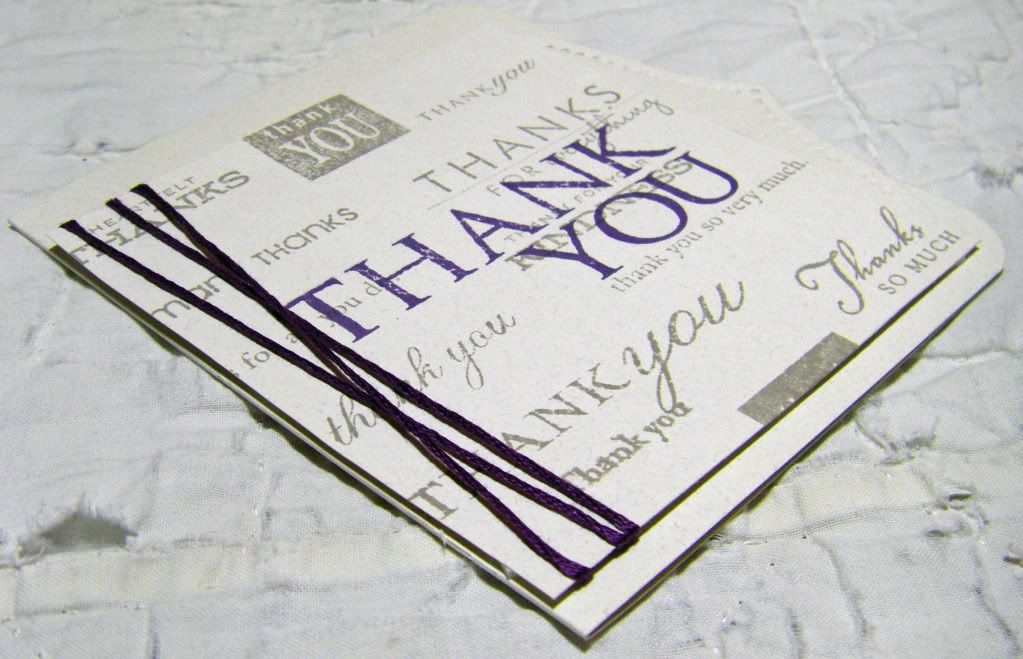 Hope you enjoyed the card. Thanks for stopping by the Hall!
Thank You Go-To Sentiments Card
All Papertrey Ink products unless otherwise mentioned
Stamps: Fillable Frames #1; Borders and Corners-Squares; Out on a Limb Sentiments; Giga Guide Lines; Year of the Flowers: Violet; Mat Stack 1 Collection; Mat Stack 2 Collection; Everyday Classics; Round & Round; Simply Stationary; and Trajan Monogram Edition
Ink: Dusty Concord and Pumice Stone, Tim Holtz Distress Inks by Ranger Industries
Cardstock: Earthstone, Neenah Papers
Die: Banner Borders
Other: Emboidery Floss, DMC; Dimenstional adhesive, Stampin' Up!; Crop-A-Dile Corner Chomper, We R Memory Keepers