Since this is the first anniversary of my blog I thought it would be about time I returned to the blogging world! A lot has happened in the time I have been gone (in order of occurrence, not necessarily importance):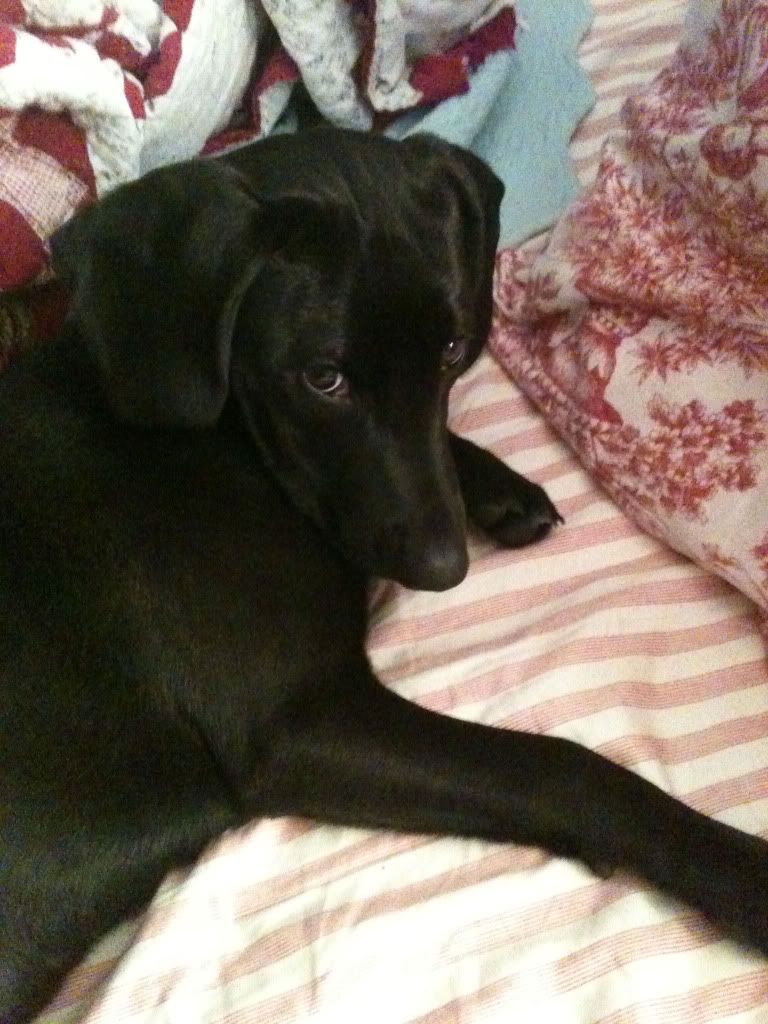 1. We added this little cutie to our family. Due to an emergency call from a colleague on Wednesday, September 22, 2010, we took in two stray dogs temporarily. We found a home for the older, sweet boy which we called Buddy and has since been named Ty by his family. The 2 month old puppy--a black lab mix--we tried to place in the same home with Ty as they were so cute together (Ty looked after the puppy), but that didn't work out and the longer she stayed with us the more we fell in love. She isn't going anywhere. We named her Wednesday (the day we took her in and also since it was around Halloween she was named after the wonderfully woeful Wednesday Addams although our Wednesday is actually a very happy girl).
2. My mom was diagnosed with lymphoma. My mom went into the hospital on Thursday, October 21, 2010 with dangerously low platelet levels and we are so grateful her doctor noticed this because she could have died within a week without transfusions and proper treatment. Currently she is going through chemotherapy and is sporting different hair and hats nearly every day. We also found out her head is quite lovely. With this hurdle and both of my grandparents dying this summer it kind of threw us all.
3. We had our 4th Annual Halloween party. We ate sinfully delicious food with wonderful friends.
4. My sister and I went to Disney World the weekend of November 12th -November 16th. We went to all four (4) of the main Disney parks in that time and came home exhausted, but happy. I have never loved Disney more...sometimes amusement parks are *better* as an adult. We also had the opportunity to visit with my uncle and meet his lady love. We all went to brunch at the House of Blues for their Gospel Brunch. My uncle and his lady love danced on stage...so sweet. Good times.
5. My Dad's Birthday. Prime rib dinner for my dad. My mom made him a cute dog card for his birthday and I helped (shake n' bake commercials always runs in my mind because funnily enough I did help my mom make shake n'bake chicken when I was little).
5. Thanksgiving. The week after we returned from Orlando was Thanksgiving. We decided to simplify. We had two types of turkey breasts (one our favorite southwestern turkey breast and the other a new boudin sausage stuffed-turkey breast which was pretty darn delicious).
6. Hanukkah. What with my mom's health and all we decided to skip our holiday party this year and have a *very* laid back holiday season. This year's Hanukkah was so early and we were not that prepared for it that we even skipped a couple nights. We decided to have a catch up at Christmas.
7. Making changes at work. We moved around offices at work for the first time in over 10 years. We all like the "new" conference room.
8. Christmas Eve and Christmas. We all went out to eat at the Egg and I for breakfast on Christmas Eve. I have decided I quite enjoy late morning breakfast out. My sister then made dinner as we did some work. We had lacquered prime rib (my dad's favorite and a must during the holidays for him) *and* really delicious applewood smoked ham. We also had roasted vegetables and a mushroom-rice casserole. It sounds like we are devoted carnivores, but you would be surprised to know that for several months my sister was a vegan and we all ate a lot of vegan and vegetarian meals during those months. For Christmas we had our brunch.
9. New Year's Eve and New Year's. Low key, but delicious foods including Hoppin' John Soup and a Blackeye Pea Chili (yum!) and homemade Cheese Beer Bread. We ate lots of blackeye peas for good luck and kale for prosperity.
So now you are pretty much caught up. I will be returning to this blog with pictures of some cards, ATCs and the like (and some dog pictures) and I am also tweeting under @verdigris1700.
Thanks for stopping by the Hall and come back soon!