I recall mentioning using my Cricut and then setting a challenge for myself to use up all the shapes I had cut out to make cards last March (as in March 2009). I really should do such a challenge again because I enjoyed making the cards quite a bit and felt a thrill of accomplishment (I may have a low threshold).
Here is another such card this one I used a stamp I love from
Stampington & Company
designed by Carin Andersson. I believe at the time I was inspired by
Heather Nichols
to use kraft and white paint (I didn't have a good white ink at the time). Of course my cards don't have her rustic elegance, but they didn't turn out too shabbily.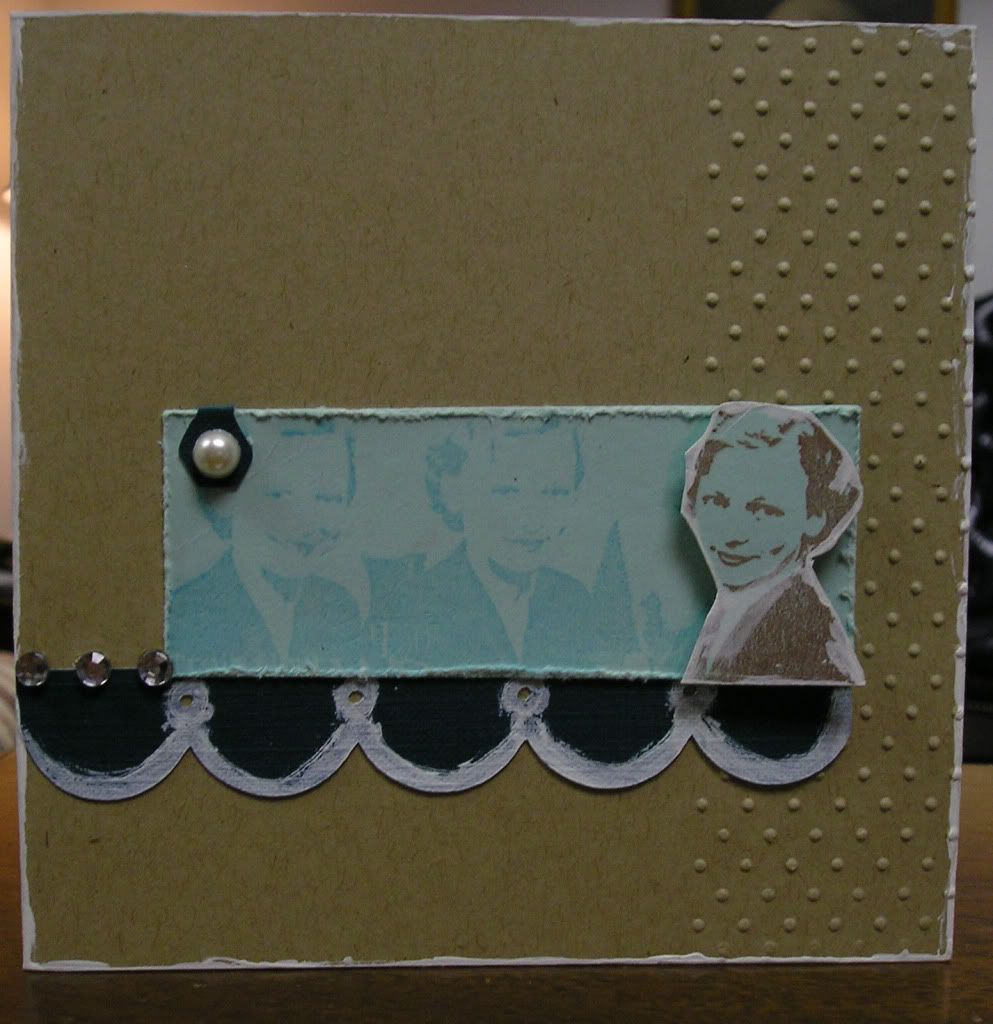 What came from the Cricut were the scallops and the tab thing. I have no idea what the tab is really (maybe there is someone out there to enlighten me), but I used it as an embellishment.
Another card I made the same time with the same stamp with slightly different colors: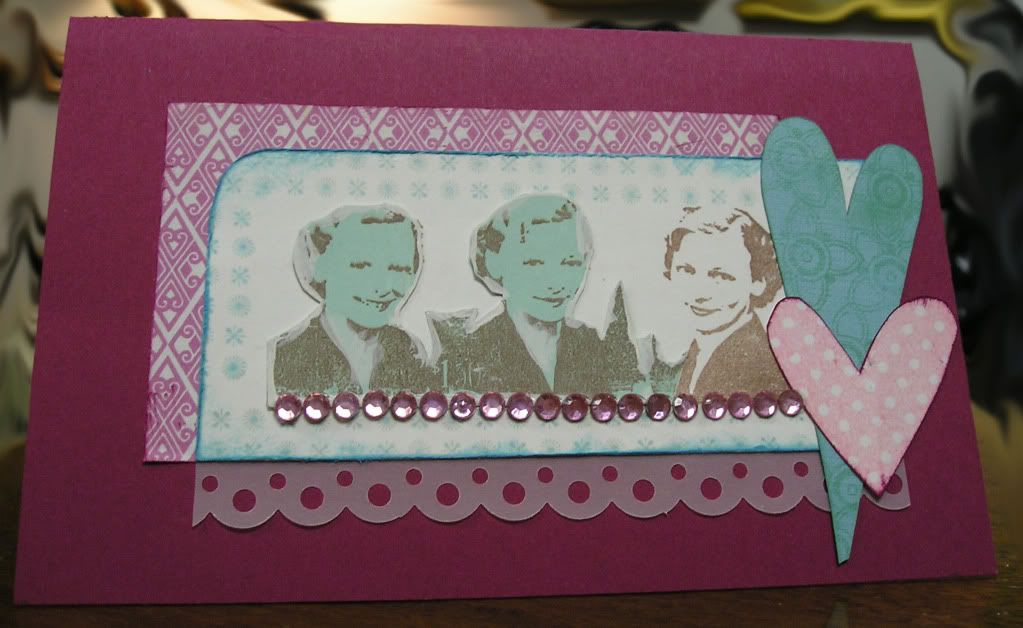 Notice I used the rest of the Aqua Mist ladies from the first card to add to this one. I was trying to be very thrifty and clever with my scraps.
The hardest part of blogging about older cards is trying to figure out what supplies I used. It is a bit of a crafting mystery I need to solve and I have to riffle around in the studio to find this stamp, this paint or that ink. Anyone else as mired in crafting puzzles?
Thank you for calling at the Hall!
The Standout Card
Supplies:
Stamp: Trio of Smiles, Stampington & Company
Inks: Amaretto Truffle Chalk Ink, Fresco by Stampa Rosa; Turquoise, Memories
Cardstock: Aqua Mist and Kraft, Papertrey Ink; Terrific Teal, DoubleMates by WorldWin Papers
Embossing Folder: Swiss Dots, Cuttlebug by Provo Craft
Craft Acrylic Paint: Warm White, Americana
Gems and Pearl: The Paper Company
Other: Cricut, Provo Craft; Tim Holtz Paper Distresser; Tonic Studios; Cuttlebug, Provo Craft; Dimensional Foam Adhesive
The Reverse Standout Card
Supplies:
Stamps: Trio of Smiles, Stampington & Company; Polka Dot heart (from little things set), urban lily;Motif on Long Heart (
from Guide Lines set
), Papertrey Ink; Border, Impress
Inks: Amaretto Truffle Chalk Ink, Fresco by Stampa Rosa; Turquoise, Memories; Aqua Mist, Papertrey Ink; Purely Pomegranate, Stampin' Up!; Bubblegum Pink, Marvy Matchables
Cardstock: Aqua Mist, Papertrey Ink; Purely Pomegranate, Stampin' Up!; White, Georgia-Pacific
Patterned Paper: 5th Avenue (from Tinsel Town collection), Pink Paislee; Vellum
Border Punch: Scallop Dot, Martha Stewart Crafts
Gems: The Paper Company
Other: Cricut, Provo Craft; corner punch;Tim Holtz Paper Distresser, Tonic Studios