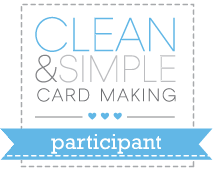 Dear Reader,
It has been too long since I was creating in my studio (a week). In fact there was a mess of stamps to clean from my last session before I could create in my square foot space among the clutter of supplies. I have found that even though I am a mess, I can use my mess to my advantage at times. I often will use what is about me--leftover paper, stamps, inks and even packaging at times.
Having said that my studio isn't entirely a den of chaos. There is order underlying the seeming disaster. I have categorized and placed my products and tools in certain zones, but my tables always seem to be covered with stamps, papers and the like. I like having my main tools at hand. As my tables dominate the room, I have to keep apologizing for how it looks to family and friends. My mom is especially critical of my studio as her sewing room is an example of organized crafting. I do love the look of an extremely organized art space, I just don't create well within it.
What about you? Does order constrain or free you to create? Do you like a balance of both?
Anyway, back to last night's creating. I wanted to create some more cards for the Clean & Simple Card Making class. This time I made a card using Jennifer McGuire's lessons from Day 3 and Day 5.
For Day 3 I chose to go with a simple die cut shape from Papertrey Ink called Friendly Flower. I cut out numerous flowers from white cardstock to be used as layering under the top flower (I used four under each blue flower). I had an idea of embossing the top dies to give them texture and further interest. The blue paper I used was actually paper I had created using some shimmery blue acrylic paint several years ago and was just sitting in my stash waiting to be used. I thought the shimmer along with brush strokes would add interest to this simple card. The sentiment is a favorite of mine from Hero Arts'
Friends are Treasures set
. I simply embossed that with white embossing powder and added a few pearls to set it off.
Another view with a pretty good representation of the color: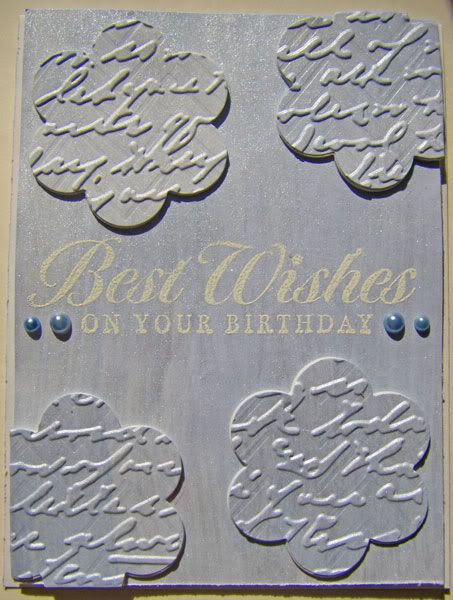 I think you can see some of the shimmer here and the dimension (you can also see the subtle zig zag impression under the script embossing):
For Day 5 I did a loose interpretation of Jennifer McGuire's watercolor blocking technique as I was inspired by heart ornaments we have hanging off our chandelier that we bought from
Victorian Trading Company
. They have an ombred background with white glittered silhouettes over it.
Here is the inspiration (picture from Victorian Trading Company):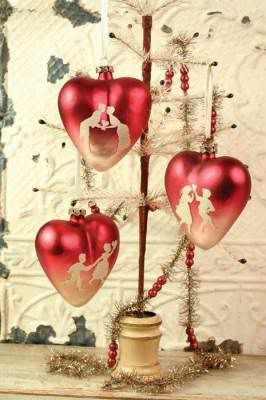 The card: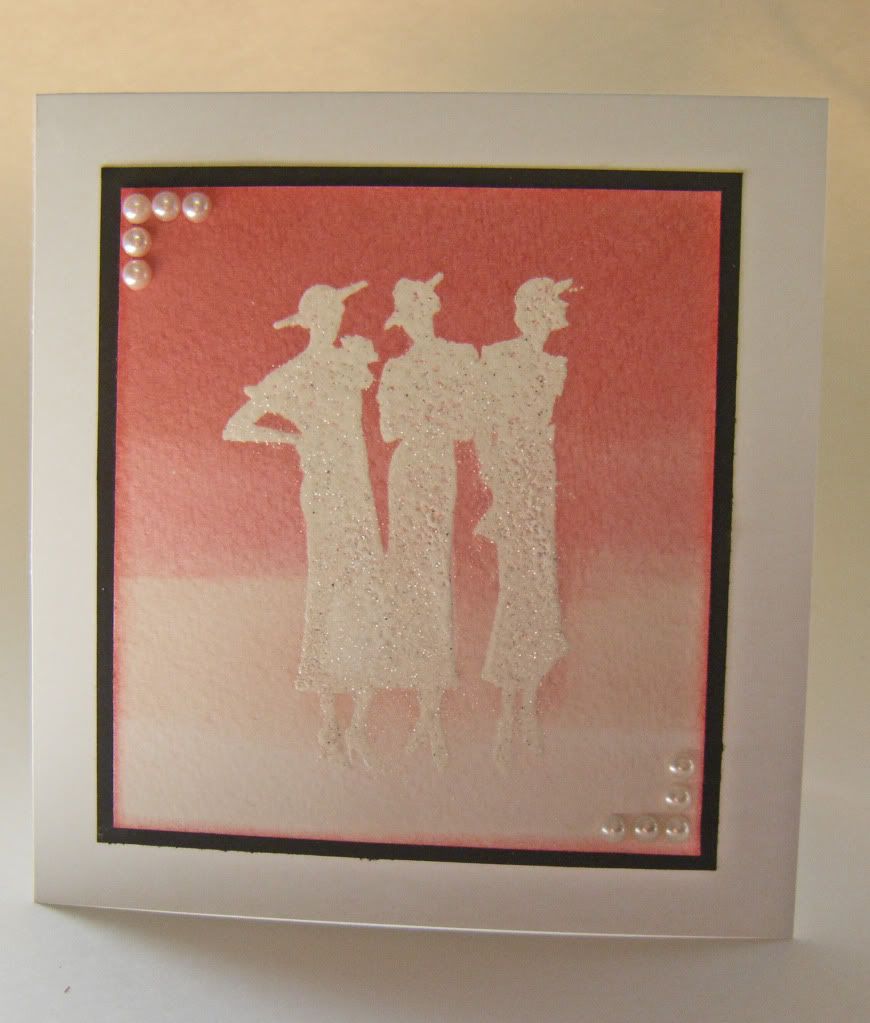 I stamped the silhouette (
Silhouette Women by Hero Arts
) with Versamark ink onto watercolor paper. I thought I would try using a sparkly embossing powder with a touch of white to get a glitter effect, but I am not thrilled with the coverage. I later added some glitter over the women. In the future I would probably just emboss in white and add the glitter by using a glue pad over the embossed image. After embossing, I painted bands of color from lightest to darkest (spun sugar, tattered rose, worn lipstick and fired brick) using Tim Holtz Distress Ink. I smudged the ink directly onto my craft sheet, sprayed a little water and then one spritz of Studio Calico Mister Huey's Calico Shine onto the ink and painted it on. I edged the watercolor paper panel and matted it on a little black and added the pearl corners.
This picture is closer to the colors on the actual card, but still a bit off: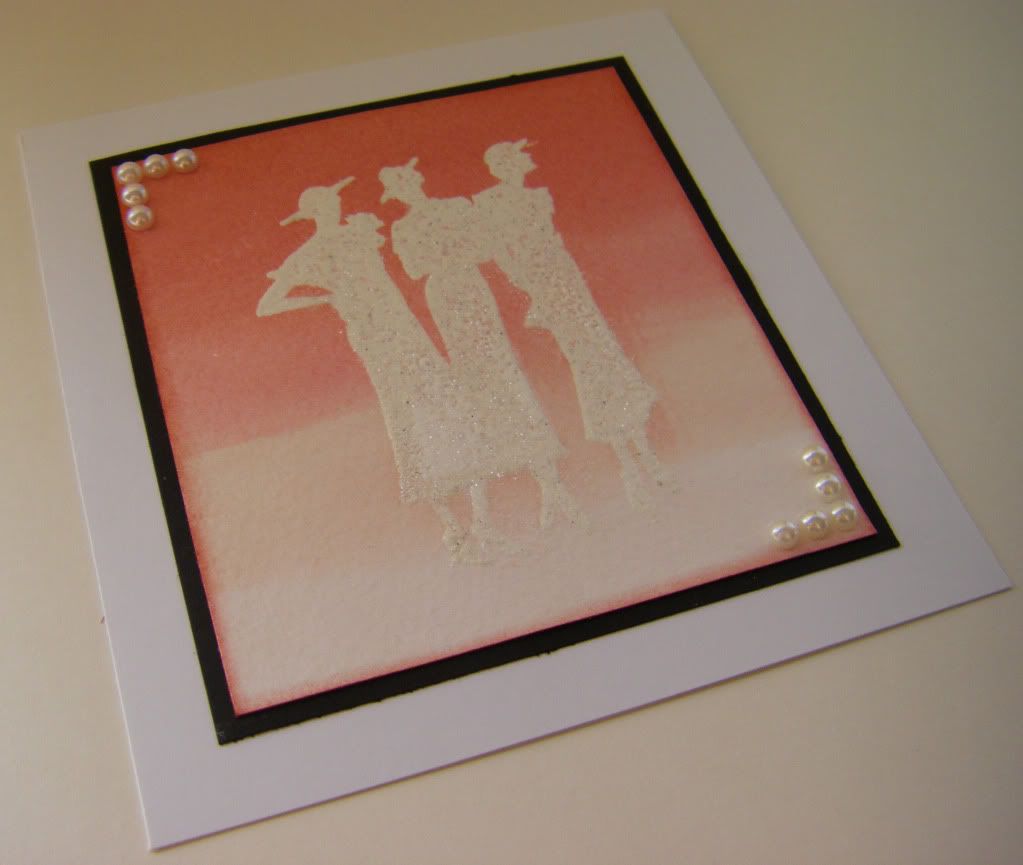 Showing some of the shimmer and glitter:
Thank you for stopping by!
Happy creating,
Shay.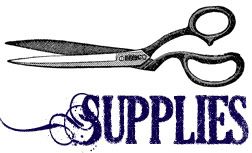 {best wishes birthday card}
stamp: Friends are Treasures (CG277), Hero Arts
ink: Versamark, Tsukineko
embossing powder: opaque white, Judi Kins
cardstock: white, Georgia Pacific
die: friendly flower, Papertrey Ink
embossing folders/plates: script, cuttlebug by Provo Craft; Halloween letterpress printing plate, Lifestyle Crafts
other: denim pearls, Kaisercraft; acrylic paint; cuttlebug, Provo Craft
{ombre women card}
stamp: silhouette women (CG278), Hero Arts
ink: fired brick, worn lipstick, tattered rose and spun sugar, Tim Holtz Distress Ink by Ranger; Versamark, Tsukineko
embossing powder: polysparkle, Ranger; opaque white, Judi Kins
watercolor paper: cold press, Strathmore
cardstock: white, Georgia Pacific; black from stash
spray: calico shine, Mister Huey's Color Mist by Studio Calico
other: crystal fine glitter, Martha Stewart Crafts; pearls, The Paper Studio