Dear Reader,
I hope you are enjoying the best year yet! I am optimistic that 2012 will be a great year full of new beginnings and adventures.
Over at
Lawn Fawn
they issued a challenge that I could not pass up
HERE
. Since I only own one of the stamp sets they wish to showcase I spent last night coming up with several cards using
Admit One
. There was one little caveat that no patterned paper could be used. No problem! I went ahead and did something I love and created patterned paper with the stamps. I used
Admit One
almost exclusively on these cards with two exceptions: the clouds are from
Bon Voyage
and the little heart is from
Cruising Through Life
. I think I only left a single image untouched, but had I had a little more time I would have worked that in too. I hope you enjoy the cards and see how fun and versatile this stamp set is.
You're Sweet (I think I am partial
to this card because of how bright and happy it is):
The close up (on my table, which is admittedly a mess, was the backing paper the glue dots come on--aka trash. I used this strip before on a card and thought it would be just right to make the You're Sweet Award Ribbon sentiment pop off the vibrant background. I edged the strip with black embroidery floss.):
Admit One (this is a dreamy little number. How sweet is the carousel image?):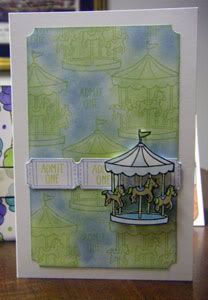 The close up (my second attempt of the carousel as the first I edged with a black Copic marker and it bled a lot...too bad as this was the most time consuming part of the whole lot of cards!):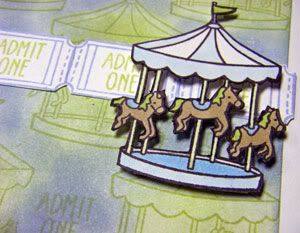 You Make My World Go Round (adorable love sentiment! Put me right in the mood for Valentine's and I had to add the pretty little heart from
Crusing Through Life
.):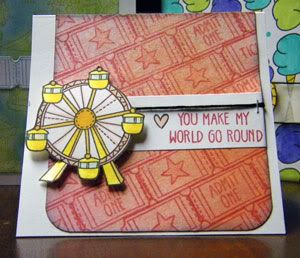 The close up (perhaps you can see the shimmer a bit here on the ticket paper I made):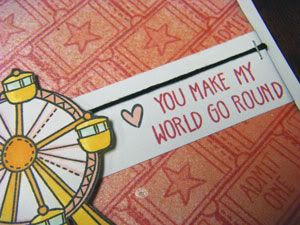 Enjoy The Ride (I really wanted to showcase the balloons and I love the clouds from
Bon Voyage
so I thought it would be a great backdrop to the balloon cluster. The clouds are embossed with white embossing powder. I stamped the balloons before I embossed the clouds for placement of the ticket balloons later.)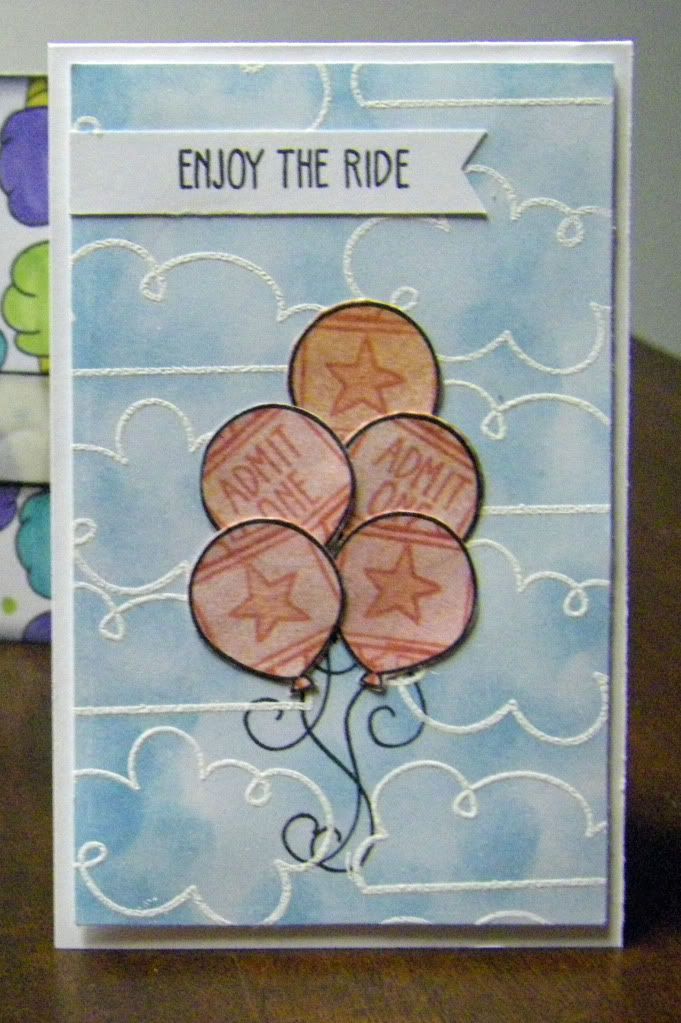 The close up (notice the pattern on the balloons? Yes, I used some of my ticket paper here too):
Happy and bright creating,
Shay.