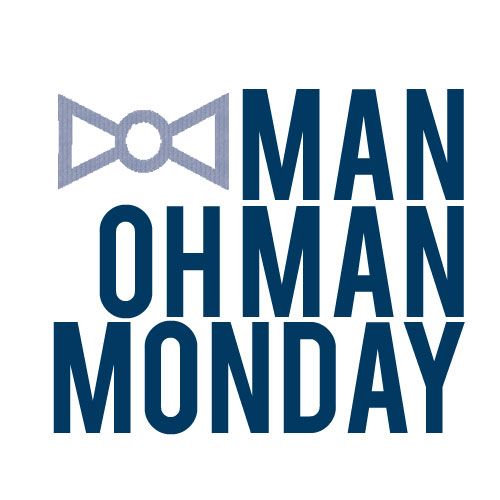 Hello, hello, hello! For once I hope I disappoint you with the offerings in this post if you are here for the Ugliest Card Ever Blog Hop (you can find my post and uglies
HERE
).
It's another Man Oh Man Monday and a little later than I had intended. I have to be honest that with a free weekend of HBO and Cinemax, I was weak and succumbed to watching a few movies this weekend. It was all research for Man Oh Man Monday I swear! I had to catch "Cowboys & Aliens" and "The Running Man" to better make a manly card. I will have to ask my tax preparer if I could get a tax write off if I subscribed to HBO and Cinemax....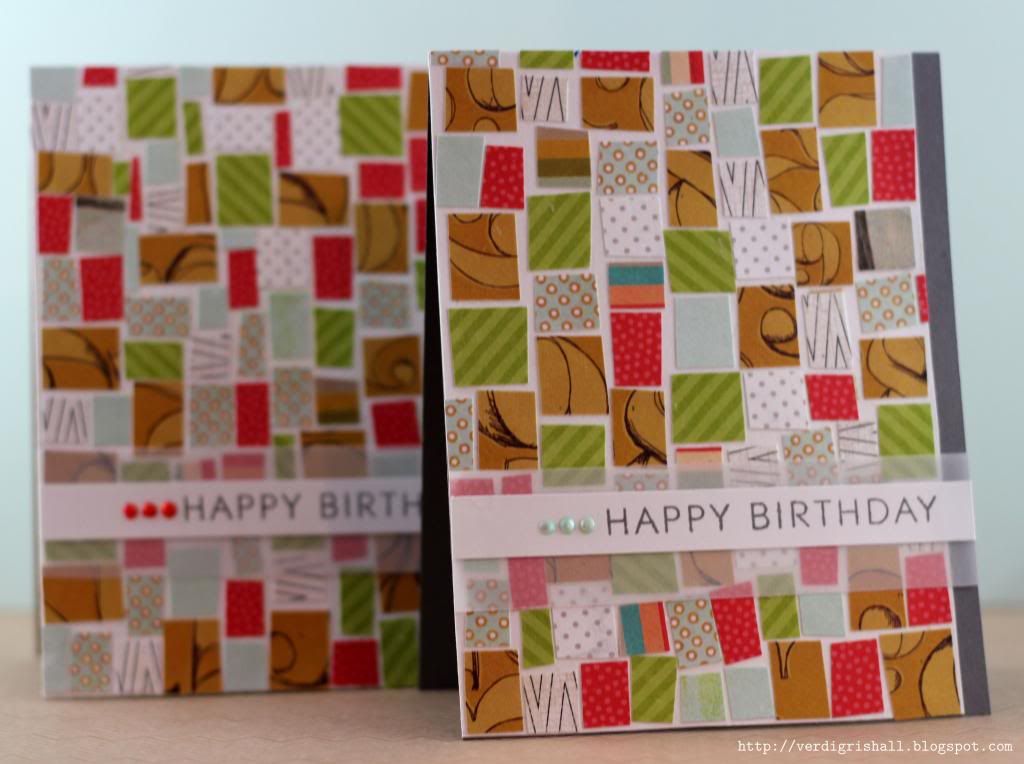 I still squeezed in making a couple of cards inspired by some crafting videos I saw this past week. I would rate these Easy Going. I saw a
Hero Arts video on mosaics
which really was the impetus for the cards this week. I still had my Studio Calico card kit out on my work table so that is where the patterned paper came from.
In a haphazard way, I cut strips and then rectangles of patterned paper. Of course you can be as precise as you want, measuring everything. I used Claudine Hellmuth's Studio Multi-Medium Matte to adhere the pieces of patterned paper in the exact same manner as Libby Hickson did using Modge Podge. I adhered the mosaic panel to a card base. The sentiment is stamped on a strip of white cardstock that I adhered to a strip of vellum. I hid the adhesive on the vellum under the strip of white card stock. The sentiment is stamped with charcoal grey ink.
The pearls are actually little drops of Viva Pearl Pen that I squeezed onto my craft sheet and let dry, this was something I picked up from Jennifer McGuire in the Pattern Play class over at
Online Card Classes
. I recommend letting it dry for a few hours...maybe cook dinner and watch a movie or two in the meantime. I am just sayin'. After the little pearls were dry I used Copics to color them. Another tip is to not loosen the pearls from the craft sheet until after you color them otherwise they move around.
MOMM Tips:
MOMM Tip No. 1: Watch tv...or videos rather. This isn't what your parents told you, but I urge you to check out YouTube, Vimeo and other sites with a plethora of hours of free crafting goodness.
MOMM Tip No. 2: Customize. Use markers, paints or other coloring mediums to customize accents.
Well, that's it from me tonight. Have an excellent night, day and/or week!
Happy creating,
Shay.
Supplies:
Stamp: Stylish Sentiments: Birthday, Papertrey Ink
Ink: charcoal mid-tone shadow ink, Hero Arts
Cardstock: white, Georgia Pacific; sand and pewter, Neenah Paper; vellum
Kit:
Central High Card Kit
, Studio Calico
Other: pearl pen in cream, Viva Decor; Claudine Hellmuth Studio Multi-Medium Matte, Claudine Hellmuth/Ranger; Mint Blue (B01) and Prawn (R24), Copic