Dear Reader,
Life is at last returning to normal at our household which is a huge relief. I can't say how grateful I am not to have to make a daily trek to the hospital and eat take out. With that said we have a family friend and a family member who are dealing with very dire health issues.
I recently made a couple of cards for quilters for their birthdays. I had been eyeing some stamp sets from Papertrey Ink because my mom loves to sew and occasionally does some quilting as does her friends. I finally bought the Quilter's Sampler and Stitches & Swirls stamp sets.
The first card up is all about warm fall colors and using the log cabin square from Quilter's Sampler. I have been on a gold embossing powder kick lately so I embossed several squares on different pieces of patterned paper then I colored them in with Copic markers for more of variation in color. All of this is mounted on red cardstock and then mounted on a piece of yellow patterned paper stamped with Stitches & Swirls in red ink and finally attached to a red card base. The banner is made from a Papertrey Ink die cut from patterned paper.
Inside the card is more gold embossing:
This second card is all about the hexagon die from Papertrey Ink. I remember my great grandmother made my aunt a quilt in a hexagon pattern...perhaps that is the genesis of my hexagon love? Whatever the reason, hexagons are definitely found in quilting and I like them so I was bent on using this new die with blue and green patterned papers. The sentiment and the threaded needle image are embossed in white. The button is wrapped around the navy strip several times.
Inside the card I added some more of the hexagons cut using the die: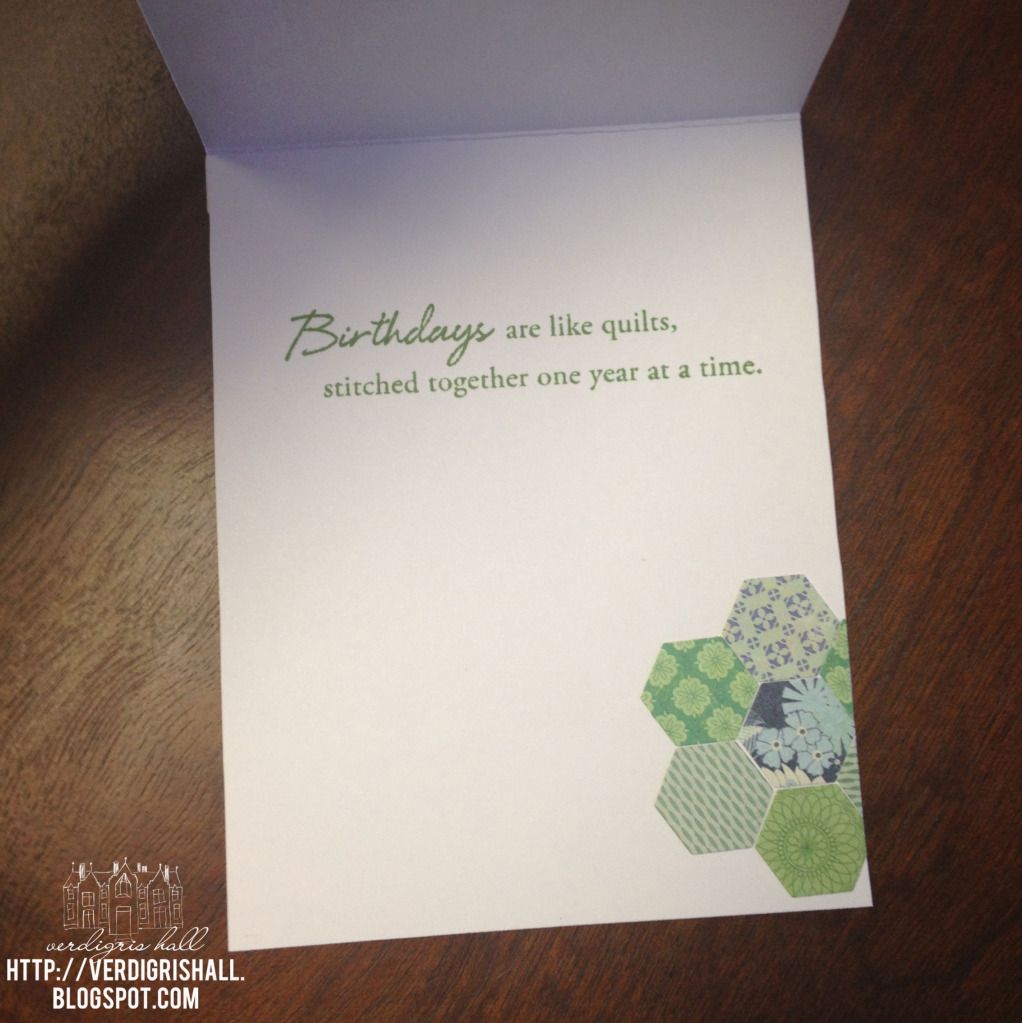 Thank you for taking the time to stop by!
Have a fall-tastic day,
Shay.
Supplies:
Autumn Quilting Birthday Card
Stamps: Quilter's Sampler, Stitches & Swirls, Botanical Silhouettes, Papertrey Ink
Ink: Versamark, Tsukineko; chili powder, Jenni Bowlin by Ranger
Cardstock: red, Stampin' Up!
Patterned Paper: Random 6x6 paper pad, Crate Paper; Farmhouse 6x6 paper pad, Crate Paper; Little Bo Peep 6x6 paper pad, Crate Paper; Autumn Press 6x6 paper pad, Studio Calico; Stampin' Up!
Die: Double-Ended Banner, Papertrey Ink
Other: gold embossing powder; Copic markers
Blue and Green Hexagon Birthday Card
Ink: Versamark, Tsukineko; seed packet, Jenni Bowlin by Ranger
Cardstock: solar white, Neenah; navy, stash
Patterned Paper: PB&J 6x6 paper pad, Basic Grey; Pretty Party 6x6 paper pad, Crate Paper; Little Bo Peep 6x6 paper pad, Crate Paper
Other: white embossing powder; button; white embroidery thread