Dear Readers,
I admit it: I have a fear of scrapbooking. I love seeing others' layouts and have had the desire to scrapbook (and doing many things to motivate me to scrapbook), but I find a 12 x 12 canvas, using photos and chronicling
my
life very intimidating. I wonder if I am alone?
In the last few of months I have done a whopping 3 layouts which is amazing considering this year was the end of a decade of not scrapping at all.
I have an ambivalent relationship with cameras. As someone who abhors having their picture taken (this is actually a family thing as there will often be at least one person running and hiding when a camera is pulled out. Personally, I like to dodge behind big objects or put myself behind taller people), they can make me nervous. Even being behind the camera is sort of uncomfortable as I feel I am consorting with the enemy and I usually limit what I photograph to dogs, things and places rather than people relating to my life. On the other hand, give me odd pictures or discards which only touch my life peripherally or not at all and I am endlessly intrigued.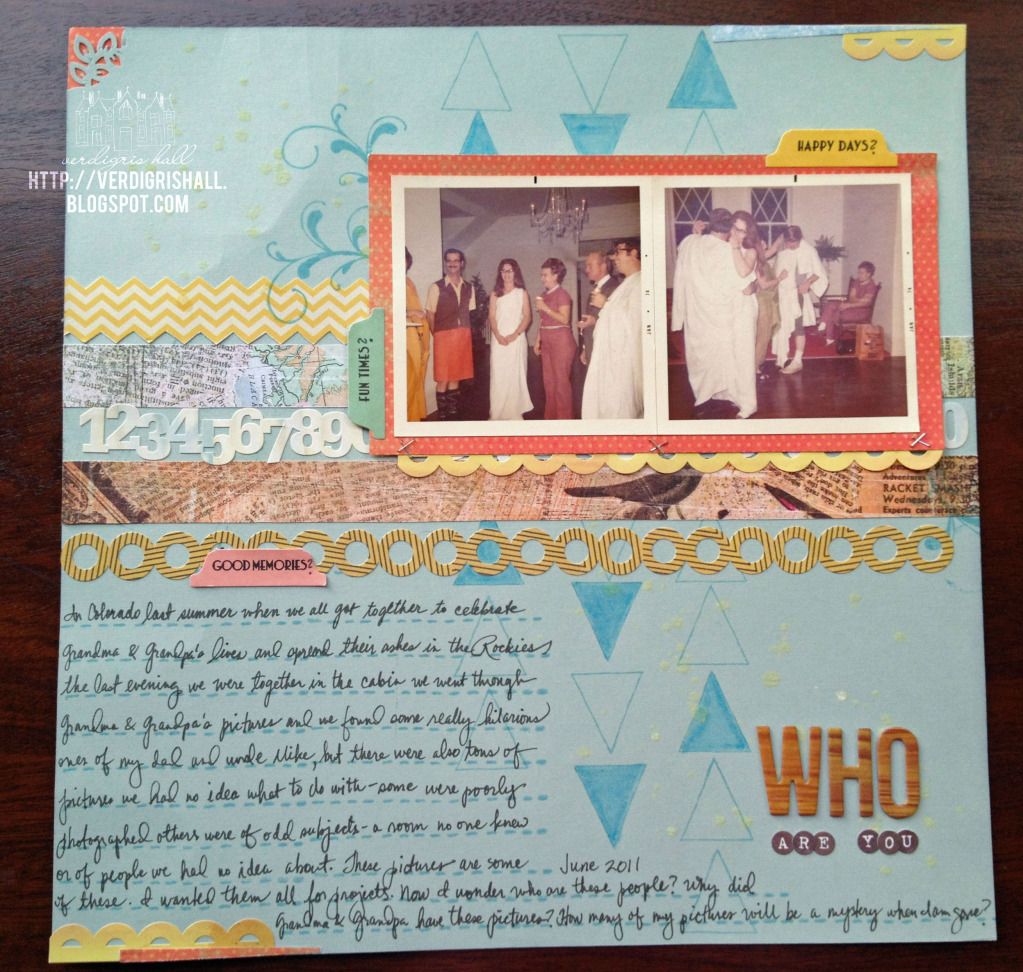 I made this layout about photos belonging to my grandparents and the story of how I obtained them and the questions arising from them was the story I chose to tell. Why do my grandparents have pictures of a "toga"/dress up party from the 1970's? Who knew. The pictures are amusing and cool.
To make scrapbooking easier for a novice like myself, I used a defined color combination (aqua, coral and yellow),
Flight Plan Mission 002
and the
Glee Club
kit by Studio Calico and a lot of stamping using
paper wings productions
stamps including Day Framer, Flourish Fun 1 and Happy Day sets (I first blogged about this layout
HERE
). By limiting my choices, it took away some of the anxiety.
Truth be told I had fun making this layout.
Do you enjoy scrapbooking? What inspires you? How have you honed your skills?
Thank you for taking time out of your busy lives!
Shay.
Who Are You
Stamps: Day Framer, Flourish Fun 1 and Happy Days, paper wings productions
Ink: speckled egg, Jenni Bowlin for Ranger
Kit: Glee Club, Studio Calico
Other: Tiny Attacher, Tim Holtz; Precision Pen, American Crafts; calico cream Mister Huey's, Studio Calico; corner punch, Martha Stewart Crafts; stickers from 5 and Dime collection, October Afternoon