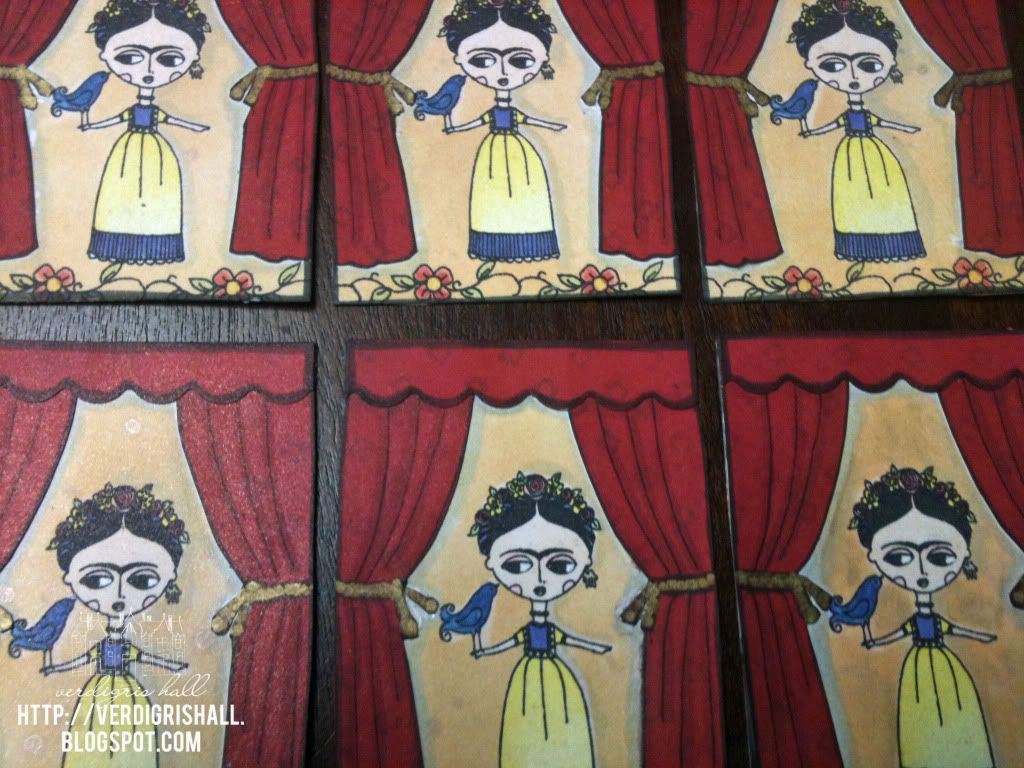 Dear Reader,
If anyone is trading ATCs with me this evening, please ignore this post for the time being. This month's themes were
No Tim Holtz
(we all happen to use a lot of Tim Holtz product so this was a challenge theme) or
Theatre
. I chose to sign up for the Theatre theme.
There happens to be a stamp set from
Paper Wings Productions
that is perfect for the Theatre theme.
Frida Por Vida
as drawn by the fabulously talented Liz Balderas of
handmade by Lissie girl
happens to have a Frida I fell in love with along with two panels of curtains--I could not have asked for anything better. I stamped the curtains on a subtle red patterned paper by My Mind's Eye and then colored in the rope with a gold pen. To the curtain I added a strip of scalloped punched matching patterned paper. Ms. Frida was stamped directly on the ATC and colored in with Copics along with the row of flowers at the bottom. Masking off Frida and her birdie friend, I added some Distress Inks in scattered straw and antique linen to the background (obviously I didn't do the No Tim Holtz theme).
I hope you like the dramatic Ms. Frida taking a turn walking the boards. I think she would have been captivating.
Happy creating,
Shay.